Five key opportunities to review to innovate your marketing
Reviewing the latest trends in digital marketing for the year ahead is always useful to help identify new marketing techniques which will give you an edge in the year ahead. Plus it's interesting to see what's new and what's hot – it's the number one question I'm asked by marketers.
Applying the 70:20:10 rule to marketing suggests why it's useful to review trends. Companies with a more agile approach to their marketing allocate some budget into experimenting with new techniques to get an edge. Recent examples of this are putting budget into the new targeting techniques that the main digital platforms have introduced or applying machine learning to personalisation to increase sales.
Which trends to review?
Review of the latest trends often consider tactics across the main digital platforms like Facebook, Google and LinkedIn. Rightly so, since they are continuously innovating and you may get an edge through the targeting options available. However, for a wider, structured review I recommend considering these 5 areas of investment in digital marketing that I cover in my simple explanation of digital marketing. I'll use these to structure this trends review:
Digital experience
Digital messaging
Digital content
Digital governance
For detailed recommendations on tapping into the innovations in different digital marketing channels, including email, social media and search engine marketing, see all the other posts from the Smart Insights team covering Digital marketing trends for 2020.
I also have a Slideshare summary of this post to download at the end of this article.
Digital experience
We'll start here since the digital experience you provide for desktop and mobile users of your website and apps are so important to how people select and buy products today and of course, affects your conversion rates. Analysis from Mary Meeker in her latest trends review shows continued strong growth for E-commerce, even in mature digital marketplaces like the US and UK where there is around 12% year-on-year growth.
The latest Gartner Digital marketing and advertising hype cycle features 22 technologies to consider covering digital experiences, media, messaging and content.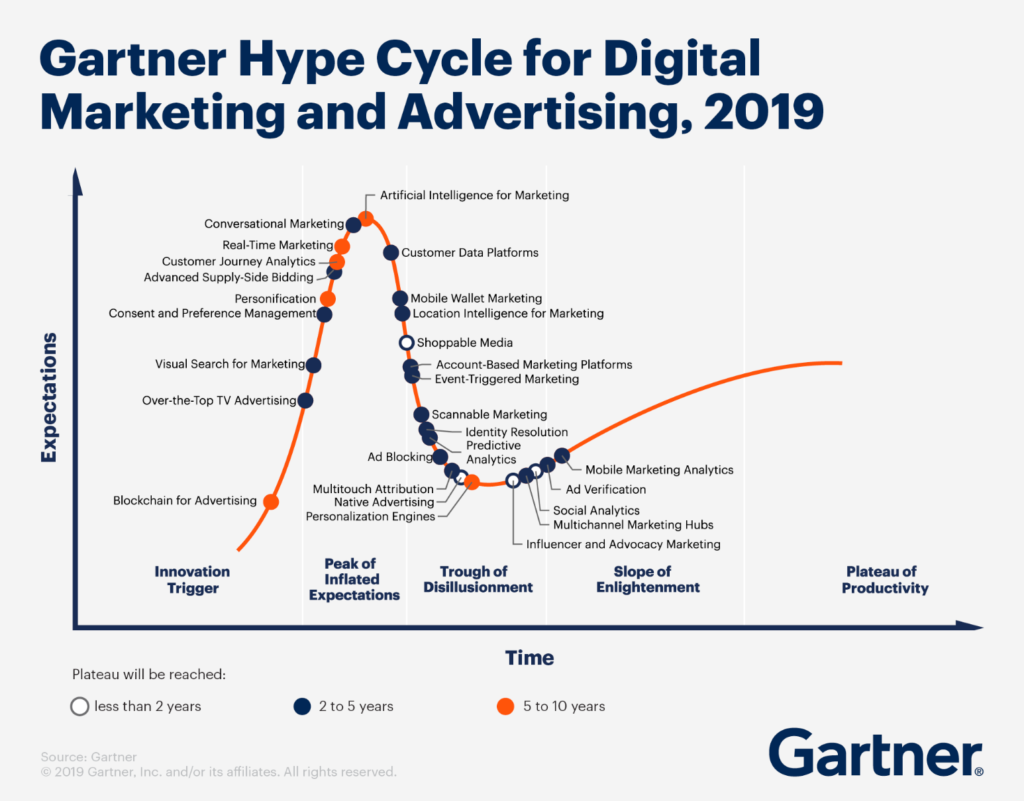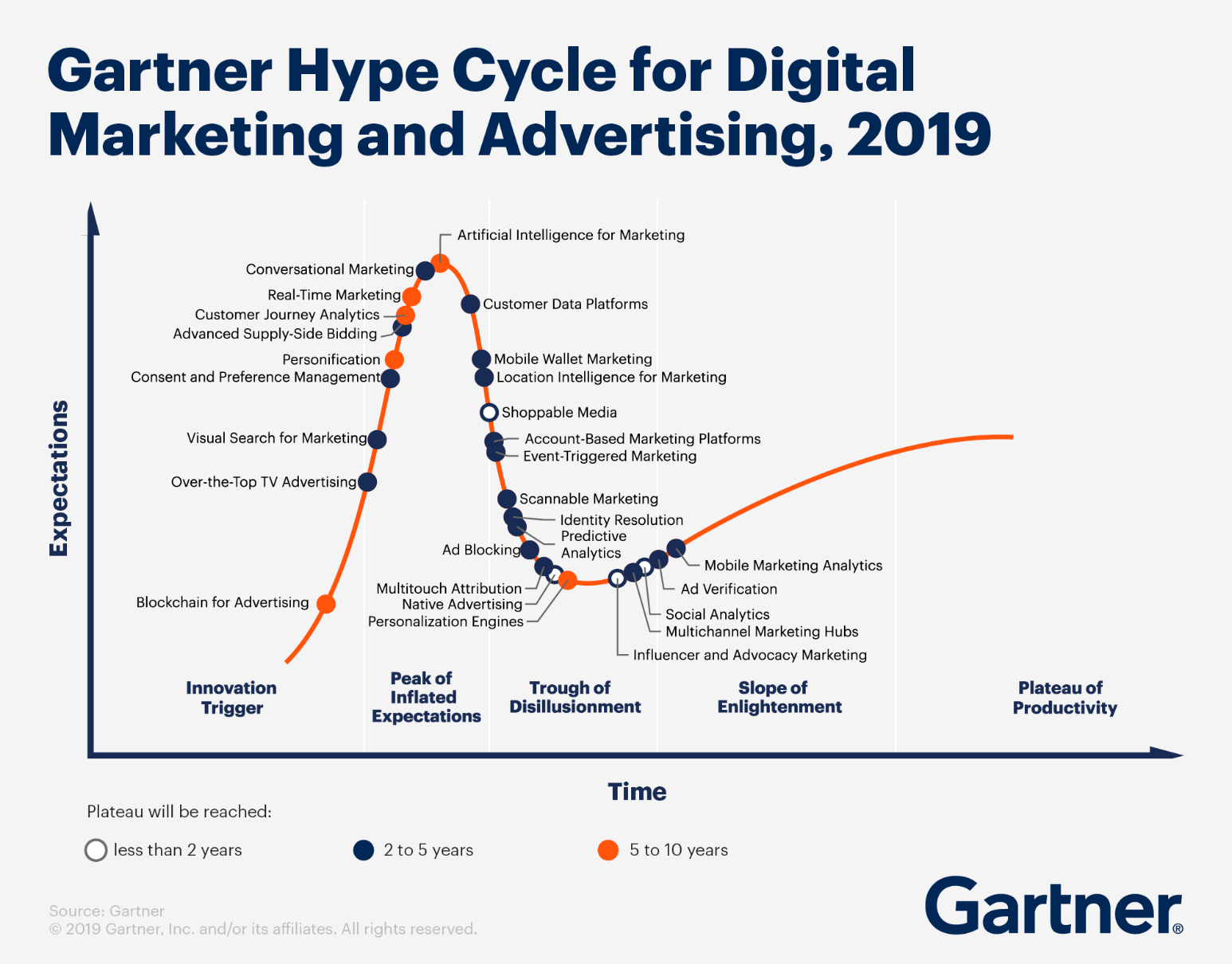 You can see that of the technologies on the Innovation Trigger slope, many aren't expected to become mainstream for 5 to 10 years. Of those looking to hit the mainstream within the next 2 to 5 years, the three most significant for marketers to consider are personification, real-time and conversational marketing which I'll cover under messaging.
Personification in digital marketing has been promoted by industry analyst Gartner since 1995 since as an approach where improved relevance can be delivered by providing segment-based communications. This is distinct from 1:1 communications based on an individuals' identity where permission hasn't been gained. You can see this is closely related to personalization.
Gartner defines personification as:
"the delivery of relevant digital experiences to individuals based on their inferred membership in a defined customer segment, rather than their personal identity".
Personification is a marketing trend which has featured on Gartner's marketing hype cycles in recent years.
Real-time marketing covers a range of established techniques such as marketing automation and personalization in response to customer behaviour, e.g. consumption of media, content or responding to messaging. It's likely that you're already using this if your business has high digital maturity. I think what is new here is a more unified approach to managing relevance across the customer lifecycle using common platforms such as marketing clouds and Customer Data Platforms (CDPs) which also feature in the Gartner hype cycle.
Digital media
Reviewing digital media opportunities is important across paid, owned and earned media i.e. Search, Social and display ads needed to engage your audience online and drive visits to your website. To review the latest trends, the US-based platforms are so important and this review from Mary Meeker shows they are still growing rapidly.
As we've said, it's important here to review new techniques that are available on the main digital platforms like Facebook, Google and LinkedIn. Certainly, Mary Meeker's research highlights the ongoing increase in investment across these platforms.
Note that these are global figures, so the increase in use of these platforms is not as rapid in more mature markets.
A long-term media trend is the increase in mobile interactions. The extent to which many sectors are highly reliant on mobile interactions is shown by the latest Merkle Digital marketing report which is one of the best sources for benchmarking media changes in the US and UK. The overall figures for paid media interactions are striking with 84% of clicks overall now on mobile or smartphone. This shows the need for mobile-specific optimization of landing pages too.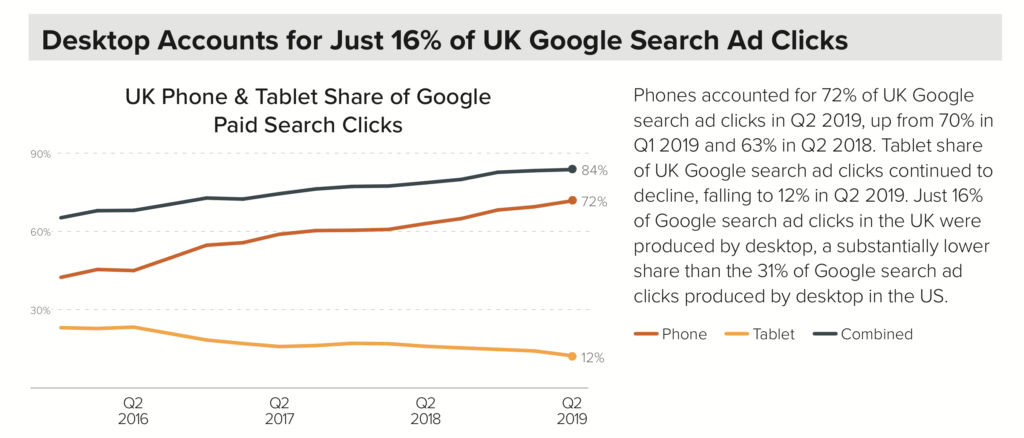 Considering spend in different sectors, the importance of mobile is slightly lower when measured by spend, with financial services leading and accounting for 58% of combined mobile spend, retail and consumer goods accounting for 56%, travel 54% and business-to-business with just 21%. Showing that desktop media remain dominant in most B2B markets.
Within social media, reviewing referrals to its clients' sites for social platforms, Instagram has the largest growth. Surprisingly, Facebook has a large year-on-year increase suggesting that despite negative publicity about Facebook, it is still widely used by audiences. Phones and tablets account for 80% of visits produced by social increasing to 96% when paid clicks only are considered.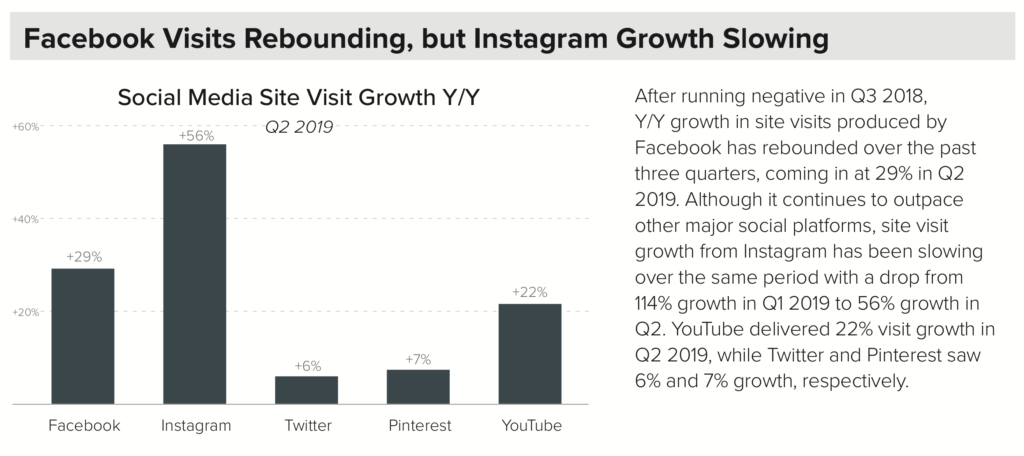 Outside the established social platforms TikTok has been getting a lot of interest, particularly amongst younger generations. While the app was launched in 2016, its popularity has grown fairly recently, it now has around 500 million monthly active users worldwide and registered more 1billion installs. It now has a pay-per-performance ad programme, so it will be interesting to see case studies coming through of the results it can deliver – it seems too early for that at this stage.
With earned media, influencer marketing is gaining more interest. For more on the latest techniques here, see the latest guide on industry and B2B influencer marketing from Onalytica.
Digital messaging
In this context, digital messaging covers the many opportunities for using nurturing on the path-to-purchase and repeat purchase. This includes different forms of retargeting that use digital messaging to encourage purchase focusing on personalized digital messaging where there has previously been an online interaction and behavioural or profiling information is available to tailor the message and so increase the relevance and response to the message.
This is closely related to the real-time and conversational marketing techniques from the Gartner hype cycle that we mentioned earlier. Forrester defined conversational marketing as follows:
"Conversational marketing technologies enable interactions between companies and customers that mimic human dialogue and do so at scale."
In terms of practical tools to support this, Email, SMS, Mobile notifications, Chat, Social media retargeting, on-site interactions and personalization are common and well-established techniques. Their power is suggested by this visual which shows the opportunities to use 'sense-and-respond' communications to interactions across the Smart Insights RACE customer lifecycle.
Email and mobile messaging, social retargeting and on-site personalization are all established techniques here. Newer developments involve text and voice-based chat using AI and bots. For business-to-business marketers, tools like Intercom and Drift that bring together personalized promotions, a knowledgebase and chat with a bot or employees help integrate these techniques both for prospect nurturing and customer onboarding. In business-to-consumer marketing, Facebook Messenger is being used increasingly to implement these features.
Digital content
Since content marketing fuels digital media, experiences and messaging, it warrants its own strategy and dedicated plans and resources. Trends within content marketing are well illustrated by the Content Marketing Institute research.
Their latest report for 2020 focuses on B2B content marketing trends. They have collected different management actions that can be taken in this visual highlighting those that are most likely have been followed by those who have made content marketing work well. Many of these actions are similar to the management response to digital marketing including:
Documented content marketing strategy (69% of the most successful companies)
Dedicated centralized content marketing group working throughout the organization (44%)
Metrics in place to measure content initiatives (95%)
Prioritizes audience's informational needs over organization's sales/promotion message (88%)
Craft content based on specific stages of the customer journey (74%)
Digital governance
Managing all of the digital marketing activities we have covered, and integrating them with brand and product launches is an ongoing challenge. Activities included here are creating an integrated strategy, digital transformation projects, marketing and sales alignment, resourcing, structure, marketing technology and data.
Based on Smart Insights research we find that many businesses are still working on digital transformation and marketing technology is a key part of this. Smart Insights managing digital marketing research shows that many businesses are now putting a digital transformation programme in place.
[Digital transformation plan]
The scale of investment in marketing technology is evident from a recent research report Martech: 2020 and beyond by BDO, WARC and the University of Bristol which shows the percentage investment in martech. Here is a summary of the most significant findings. The research is based on an online survey of more than 750 brands and agencies located in North America, the UK, Europe and APAC.
The report shows that around 20% of marketing budget in the UK going to marketing technology and 30% in North America, levels of investment are shockingly high. It begs the question of how many businesses are getting ROI and taking time to fully customize to their businesses and ringfence time for analysis of the insights. The report also shows that around one-third of companies have reduced media spend due to martech investment which suggests it could potentially harm customer acquisition.
These are the trends for current and future investment in martech – no surprise to see that email marketing, social media marketing and content marketing/management (Content management systems) are top. Perhaps surprising that data management, SEO, Experience optimization, Marketing Automation and Collaboration are relatively low.
There is also interesting insight into the use of Marketing Clouds, here described as 'using one marketing technology provider for most of our needs'. Given the many categories of martech, it's logical to use a single cloud service to reduce costs, improve usability and integration. However, many cloud systems have grown through the acquisition of other technology companies and there may be challenges with costs, usability and integration!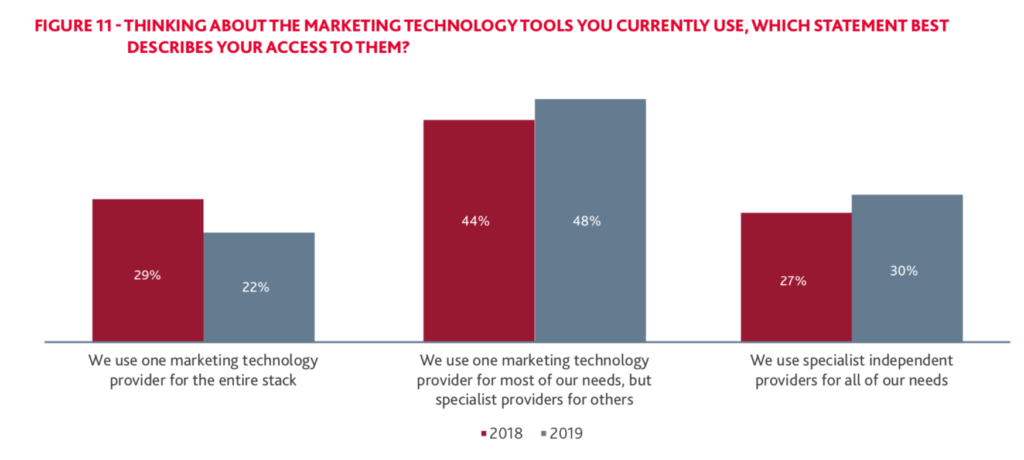 Given these benefits of marketing clouds, it's not surprising that around half of respondents now use a single primary provider for Martech.
I hope you find my review of digital marketing trends summarized in this post and presentation interesting and useful. Let me know if you have any questions or comments about innovations that excite you.