As you may know, I've been involved in educating about digital marketing for a long while and have enjoyed sharing the popular marketing models and frameworks which help marketers plan. It's been nice to get kudos for this as I've helped people plan their way out of chaos…
For years, the 'GoTo' plan for a marketing plan or even a Go To Market plan, has been PR Smith's SOSTAC® marketing plan model. It's widely used to structure plans whether they are communications plans or digital plans. In our book Digital Marketing Excellence, and my other books, we've applied it to planning digital marketing plans.
One challenge I have seen when marketers and students are applying SOSTAC® in their assignments or plans, is that they struggle to integrate the different parts of the report which can become disjointed. To help with this, in my books and Smart Insights example templates and plans I developed a simple table which relates situation, objectives, strategies, tactics and measurements. This helps with integrating different sections and gives an efficient summary of your objectives and strategy to achieve them. Essentially it covers the SOST part of SOSTAC®.
This brings me to GOST, a simple framework that I learnt about recently when reviewing corporate marketing plans on a digital transformation consulting project. The GOST technique was used to enforce a standard method of relating objectives, strategies and tactics for plans in different business units.
I like the way that GOST defines a hierarchy for Goals > Objectives > Strategies > Tactics (similar to SOSTAC) which helps tackle the problem of creating a plan which naturally flows between the different sections. Each part of GOST has these aims:
Researching what else has been written about GOST yields relatively few articles and they seem to be mainly related to corporate planning, so it's no perhaps not a surprise I haven't encountered it before. This introduction to GOST has this useful table which explains how the elements of GOST relate. It also adds an overall mission that could be relevant at a corporate or digital transformation strategy level.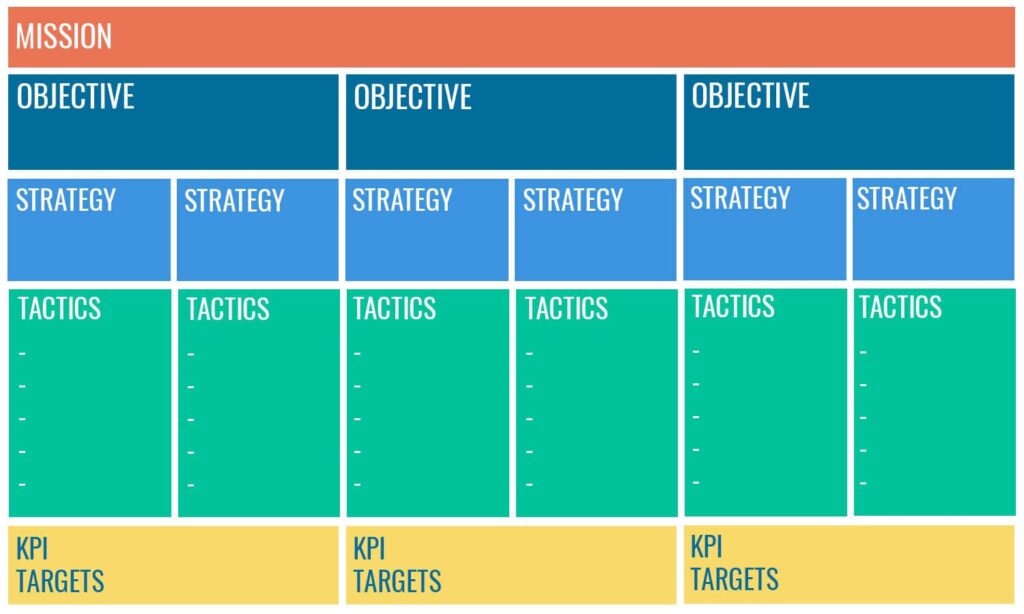 Considering how this could apply to our RACE marketing model, you can see that objectives, strategies, tactics and KPIs can be set for each part of RACE and summarised in a table like this.  You can also present each Objective > Strategy > Tactics on a single slide like this, which is efficient.
Our full RACE model breaks down into 25 activities, so another application I'm working on for another client project is to create a marketing playbook defining standard always-on and campaign activities to be implemented to improve the maturity of digital marketing across different teams. This defines standard techniques to be applied to improve one tactic such as content marketing or landing page effectiveness.
So, that's a brief introduction to GOST. Do let me know your thoughts or tips based on how you use it.