Digital marketing strategy and best practice advice
This page lists the latest editions of the books I've edited on digital marketing strategy and planning on Amazon. It also explains about the toolkits we publish for our members on Smart Insights which have 200+ more advanced, more detailed templates and guides.
Digital marketing and e-commerce books by Dr Dave Chaffey
I wrote my first book on digital marketing in 2000 back when we used to talk about 'Internet marketing'. Since then I have enjoyed updating them based on my experiences on B2B and B2C training and consulting projects plus hearing how they have helped hundreds of thousands of people around the world who have used them on university marketing or MBA courses or for professional diplomas. These are the three latest editions with a link to the relevant page on Amazon:
Digital Marketing: Strategy, Implementation and Practice, 8th Edition.
With Fiona Ellis-Chadwick.
Used by: Undergraduate and post-graduate degree marketing students. Senior marketing professionals, e.g. marketing managers and directors.
Digital Marketing Excellence, 6th edition.
With PR Smith.
Used by: Undergraduate students and marketing professionals reviewing their marketing or completing marketing diplomas.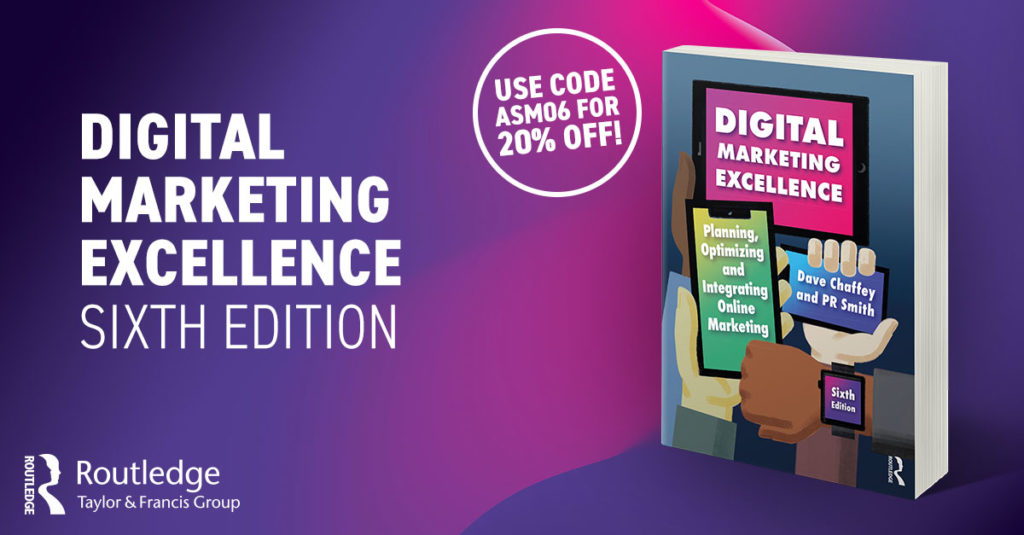 Digital Business and E-commerce Management, 7th edition.
With Tanya Hemphill and David Edmunson-Bird.
Used by: Students on postgraduate digital transformation courses and MBAs.
To help students and lecturers I also have a Dave Chaffey book support page on this site.
Smart Insights digital marketing strategy downloads and courses
Smart Insights is a learning platform I co-founded which helps business owners and marketers map, manage and optimize their marketing. We have over 150,000 active members, including many students and lecturers who subscribe to our free membership and Premium Individual and Business membership for teams.
See our Digital Marketing Advice page for the full range of free and paid resources including a free online marketing plan template.
We publish 20 marketing toolkits each with a free download for our members recommending best practices and trends focusing on different aspects of digital strategy including: