Introducing the 7Ds of managing digital marketing
To understand how best to manage digital marketing in a business, it's useful to scope out what digital marketing involves; which activities are required and how they relate to other marketing activities. I've found that without this shared understanding within a business, digital marketing won't get the investment needed. This may seem like an academic exercise, but it's needed since there is often still an educational job to do on colleagues in a business who 'hold the purse strings' of digital marketing.
To take some examples of misconceptions of digital marketing, here are some classics that I've heard and I guess you will have also:
Digital marketing is our website
Digital marketing is our Facebook page
As you can see, these narrow the scope of digital marketing drastically and it means that digital won't get the budget to compete. For the seventh edition of Digital Marketing, Strategy, Implementation and Practice, I developed the 5Ds of digital marketing as a simple mnemonic to explain what needs to be managed. I included this in the first chapter to give a basic idea of what's involved with marketing to make it accessible for students who will be familiar with their own experience of devices and platforms, but won't be familiar with some of the key concepts for managing digital marketing such as the media, technology and data.
2022 update to article – the 7Ds of digital marketing
When working on our 8th edition I wanted to update the emphasise some concepts such as the applications of Artificial Intelligence for marketing and Big Data that reviewers recommended should be covered in more depth.  I also wanted to update the overall structure of the chapter which I was never quite happy with since it had evolved from one edition to the next. Since the original Ds were descriptive of how interactions take place it has a weakness that it doesn't adequately address the 'why' and 'who' of digital marketing as covered in the chapter.
So I have introduced two additional Ds to give this all-important context and created this summary visual for the designer to improve upon. It adds complexity, but I think now better covers the main concepts covered in the introductory chapter that students need to be aware of when working on digital marketing, which are expanded on later in the book.
Thanks to the feedback from social media, LinkedIn, we now have an updated version to introduce the new edition of the book:

This YouTube explainer explains my thinking in using the 7Ds to explain which factors need to be covered for effective digital marketing.
The 7Ds of managing digital marketing are:
Digital goals – reviewing what the business or brand is aiming to achieve through using digital marketing, considering how digital marketing can help the business compete better through considering new business and revenue models and investing more in digital transformation and always-on marketing in addition to campaign investments which will have SMART objectives.
Digital audiences – understanding online audience characteristics, behaviours and preferences in order to deliver more relevant content and experiences to different target segments aimed at increasing interactions and so meeting business goals within the competitive online marketplace.
Digital devices – our audiences interact with businesses using a combination of smartphones, tablets, desktop computers, TVs, gaming devices, smart assistants and other connected devices forming the Internet of Things (IoT).
Digital platforms – most interactions on these devices are through a browser or apps from the major 'platforms' or online services, that's Facebook (and Instagram), Google (and YouTube), Twitter, LinkedIn, Apple, Amazon and Microsoft.
Digital media – different paid, owned and earned media communications channels for reaching and engaging audiences including advertising, email and messaging, search engines and social networks. Owned media also include the company websites and/or apps and content strategy.
Digital data – the insight businesses collect about their audience profiles and their interactions with businesses which now needs to be protected by law in most countries
Digital technology – the marketing technology or martech that businesses use to create interactive experiences from websites and mobile apps to in-store kiosks and email campaigns
Of these, it's encouraging interactions on digital platforms using digital media which are most important to increase Reach. These often also involve integration with other digital channels.
For more background, see my Smart Insights post What is digital marketing? This gives an alternative visual summary as does this video explainer giving a simple explanation of digital marketing.
Our RACE planning system explains what digital marketing is in terms of activities to encourage marketing outcomes like leads and sales through the classic marketing funnel.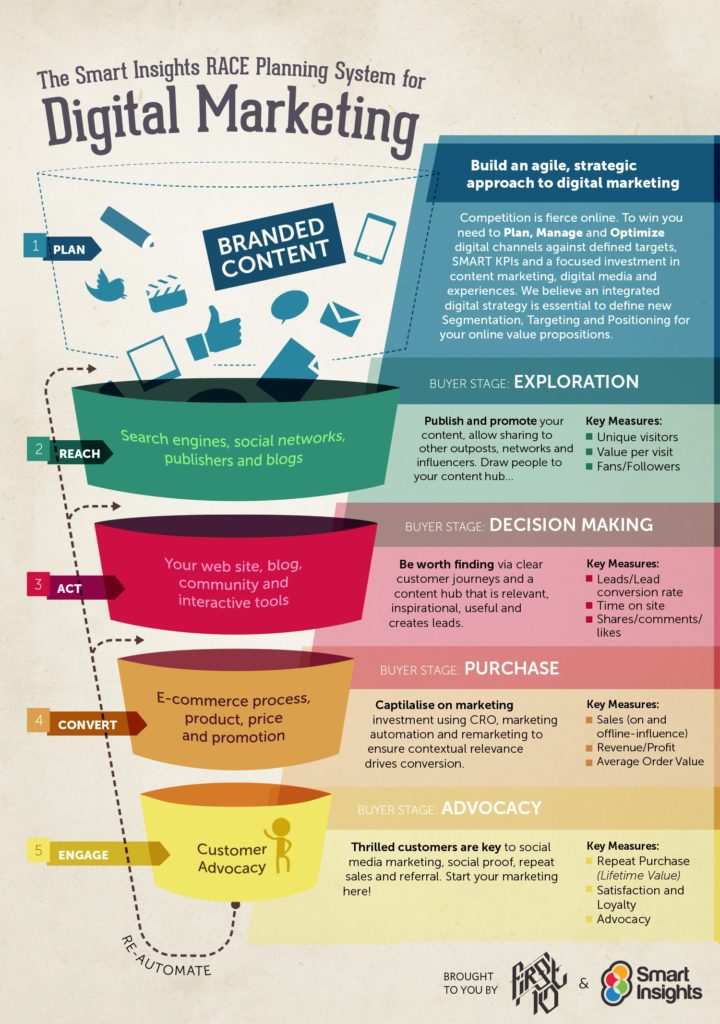 For Smart Insights members, our digital marketing management audits and plans give gives a more detailed breakdown of 25 key digital activities that need to be managed across RACE. I have also written a more in-depth article explaining: What is Digital Marketing which explains 18 digital media techniques that should be used in digital marketing and how to audit digital marketing across the customer lifecycle.