Each year, to get an idea of the trends that will have the most impact in the year ahead, we ask Smart Insights readers to select the ONE marketing activity that they think will give their business the biggest incremental uplift in leads and sales in 2017 (or their clients if they work for an agency or as a consultant).
Here are the results for 2017 which make for interest reading since there are two clear winners.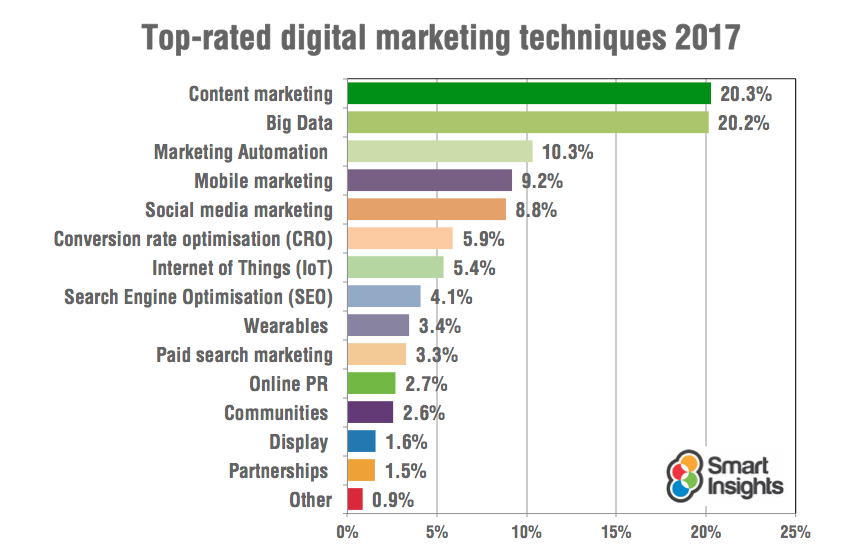 So, what do the responses show? Well, there are two clear winners in popularity: Content marketing trends and Big Data. Content marketing has been in the top 3 for the last 3 years we have run this poll, so it shows the aspiration for content marketing to commercial success. A focus on content marketing makes perfect sense for modern marketing since it supports a more integrated approach to digital marketing where content is used as the fuel to increase engagement across different inbound channels including organic and paid search, social media and email marketing and also out outbound. Content marketing can support a strategic approach based on engaging different customer personas across the customer lifecycle, rather than treating different channels in isolation.
It is more surprising that Big Data is in the second position since it not a specific term and you may think that is limited to use in big businesses with big budgets. Its popularity is explained since, in the poll, we caveated it to include market and customer insight and predictive analytics. With IBM reporting that the volume of marketing data has doubled in the last eighteen month, it's understandable that marketers want to mine and apply this as insight to boost response and conversion. Applying Machine Learning, a technique that was much hyped in 2016 supports this well.
You can read more details on the other channels in my Smart Insights article on 2017 Digital Marketing trends and a free download on 9 higher level megatrends that impact businesses of all sizes.