Macro and micro-conversions are terms popularized by Google digital marketing evangelist Avinash Kaushik.
He uses this visual to explain that typically overall macro-conversion rates are low, typically around 2% according to these average e-commerce conversion rates. So, the logic is you can increase macro-conversions at the bottom-of-the-funnel by increasing micro-conversions that nudge people along the path to purchase. So, for example, if you get more visitors onto product pages, they are more likely to convert.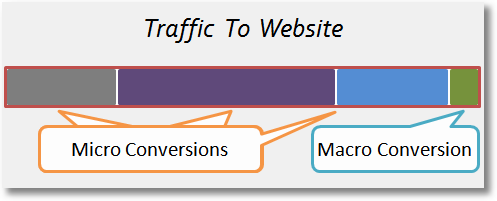 They are useful to review when setting digital marketing objectives and setting up Goals in Google Analytics. Yet I find that many businesses don't set these up fully, if at-all or set the goal value.
Website macro-conversions
Macro-conversions are the main marketing goals that your business needs to achieve to grow. Examples include
Sales (for E-commerce websites)
Leads (for B2B sites such as request-for-quote, contact-us or livechat)
Setting goal value for macro-conversions
You should aim to set the value for your goals. For transactional E-commerce sites which sell online, the value will be set automatically if you have Advanced E-commerce tracking set up. Yet for many other businesses value isn't assigned for goals. Setting goal value is a 'best-practice' I recommend since Google then works back through the customer journey to show the relative importance of different pages (via the page value measure in the Content report) and media (via revenue or goal value per visit in the acquisition reports).
Website micro-conversions
Micro-conversions are outcomes suggested by interaction with different types of content, that if achieved, can help a website visitor progress on the path-to-purchase. For example, a visit to a product page, pricing page or About Us page suggests progression towards purchase.
Examples of micro-conversions include:
Product page views
Demo video views
Product page views are usually across multiple pages, so they are not a simple destination goal, but will include a regex such as matching /products'/.
Tracking the total number of product page visits through time is a good measure of the health of the site based on inbound channels. You need to be alerted to the number of visits.