Google Tag Manager is the most widely deployed tag management system in the world. It runs many millions of tags for sites all over the world including Google Analytics tags and many other applications.
It's likely you wouldn't want to use a Tag Manager if your only goal was to track your site with Google Analytics, but I recommend using it or other Tag Management Systems (TMS) since it makes it easier to add and manage tags for other 'Software as a service' or SaaS services to integrate with your website. Examples of these include:
AB Testing tools like Google Optimize
Email marketing and marketing automation
Plus, it makes it easier to use event tracking and custom dimensions in Google Analytics and manage Google Ads remarketing lists.
Events, in particular, are much easier to setup and debug in Tag Manager.
Prior to the birth of Tag Management systems event hits had to be initiated by Javascript code to measure interactions on a website. For example, Smart Insights used events to track clicks on our home page carousel (slider).
Effectively, what Tag Manager does is to listen for clicks on different elements of a page and then can then record them as events.
Tag Manager is a free tool from Google which competes with other tag managers that offer a way of adding and managing different Javascript tags that are added to website code for tracking users, managing advertising and deploying marketing technology to improve the user experience.
Data is exchanged between the website and the different tracking tools and Martech using the Data Layer as shown in this visual from Analytics Mania.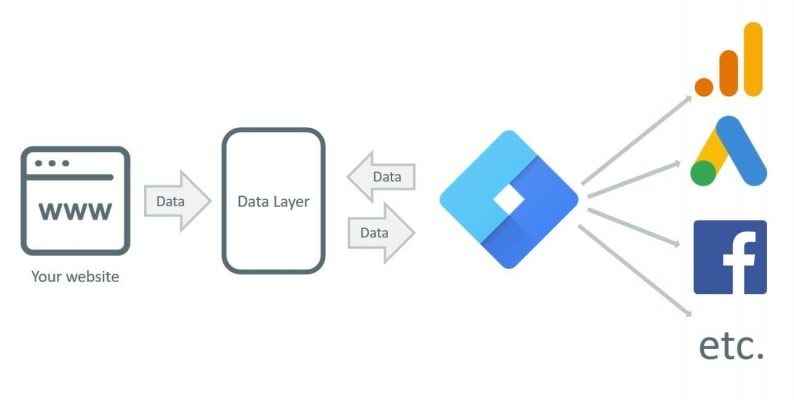 Tag Manager is relevant to Google Analytics since the only way Google Analytics can track user interactions is with the help of tracking code (also known as GA Javascript code snippet)  that must be placed on every page of your website.
Julius Fedorovicius of Analytics Mania, one of the best resources for learning the intricacies of Tag manager explains the data layer like this. I mention it here, since the term is often used between marketers and their agencies or analytics specialists when talking about how data is transferred. He explains the Tag Manager Data Layer as follows:
"Tag Manager Data Layer is a JavaScript array that temporarily stores the information you need and then Google Tag Manager uses that data in tag/triggers/variables (later that data can be transferred to other tools, like Google Analytics).

In plain English, a Data Layer like a virtual layer of your website, which contains various data points and GTM uses them. Regular visitors don't see that because it is not something openly displayed. But if you know how, it's fairly simple to view what's in it.

Imagine that Data Layer is like a bucket. That bucket can contain little ping pong balls, every ball contains some information, e.g. a user ID, the information about the clicked website element, purchase ID, page category, etc. Google Tag Manager heavily relies on what is within that bucket. If click information is added to that bucket, GTM can use it as a triggering condition. Or maybe it can take the Form ID (of the form that was just submitted) and send it further to GA".
Smart Insights uses the Data Layer such that we can see how different levels of Free and premium members access the site using a custom dimension. We can then report on how content preferences differ between different members.