Share of Search is a useful measure for reviewing the effectiveness of both organic and paid search marketing. It is particularly critical to competitiveness for businesses in sectors where there are high-involvement products where people show high search intent and volume by searching for product information as part of the buying process.
I've referenced it in the situation analysis section of several editions of our Digital Marketing: Strategy, Implementation and Practice book since it can be used to benchmark visits attracted to a website through organic and paid search compared to competitors.
In the book, I define share of search as: "The audience share of Internet searchers achieved by a particular audience in a particular market". This isn't the clearest definition and was deliberately vague since this isn't a standard measure produced by Google and different businesses could define it differently!
My intention was to make marketers aware that they could measure their relative visibility to audiences for searches related to their brand and products in the same way that the 'share of voice' measure is used within social media marketing or PR.
To help make this a practical tool to review organic and paid search effectiveness together, around 15+ years ago, I created a search analysis spreadsheet later made available to Smart Insights members which enabled this to be calculated using sources like Google Keyword Planner and Search Console as explained in the other post.

While, I'm discussing this, I'll update the definition in line with the original to hopefully make it more practical and clearer, plus relate it to gap analysis. The improved definition is:
"As evaluation of the proportion of website visits from organic and paid search that a brand attracts for a defined set of target search terms used by an audience searching for a market category of product, service or other information. A search gap analysis can be performed to assess potential visits from consumer search intent against actual visits achieved through SEO and Pay Per Click activities".
Defining Share of Searches
Given that I've been recommending this technique in workshops and my books for a long time, it was good to see a more rigorous calculation of Share of search shared by Les Binet, Head of Effectiveness, of agency adam&eveDDV at a recent IPA effectiveness week presentation 'A new way to track brands and advertising'. Les was describing a higher-level, but nevertheless, useful competitor benchmarking technique to assess the popularity of brands based on consumer search intent, i.e. the number of searches. This technique is limited to brand search terms, so is distinct from the gap analysis technique above that reviews product-related search effectiveness.
Share of Searches is defined as:
𝑺𝒉𝒂𝒓𝒆 𝒐𝒇 𝒔𝒆𝒂𝒓𝒄𝒉𝒆𝒔 = S𝒆𝒂𝒓𝒄𝒉𝒆𝒔 𝒇𝒐𝒓 𝒃𝒓𝒂𝒏𝒅 𝒙 / S𝒆𝒂𝒓𝒄𝒉𝒆𝒔 𝒇𝒐𝒓 𝒂𝒍𝒍 𝒃𝒓𝒂𝒏𝒅𝒔 𝒊𝒏 𝒄𝒂𝒕𝒆𝒈𝒐𝒓𝒚
You can see that this definition doesn't relate to how many are attracted to a website, it simply relates to the consumer intent based on the number of searches or impressions for brands in a category.
What's really interesting to me is that Les and team have reviewed historic data of search and purchase behaviour in three different markets (automotive, energy and phones).  This shows that, as you might expect there is a correlation between between share of searches and market share. Simply put, more people will search for brands with better awareness and sales.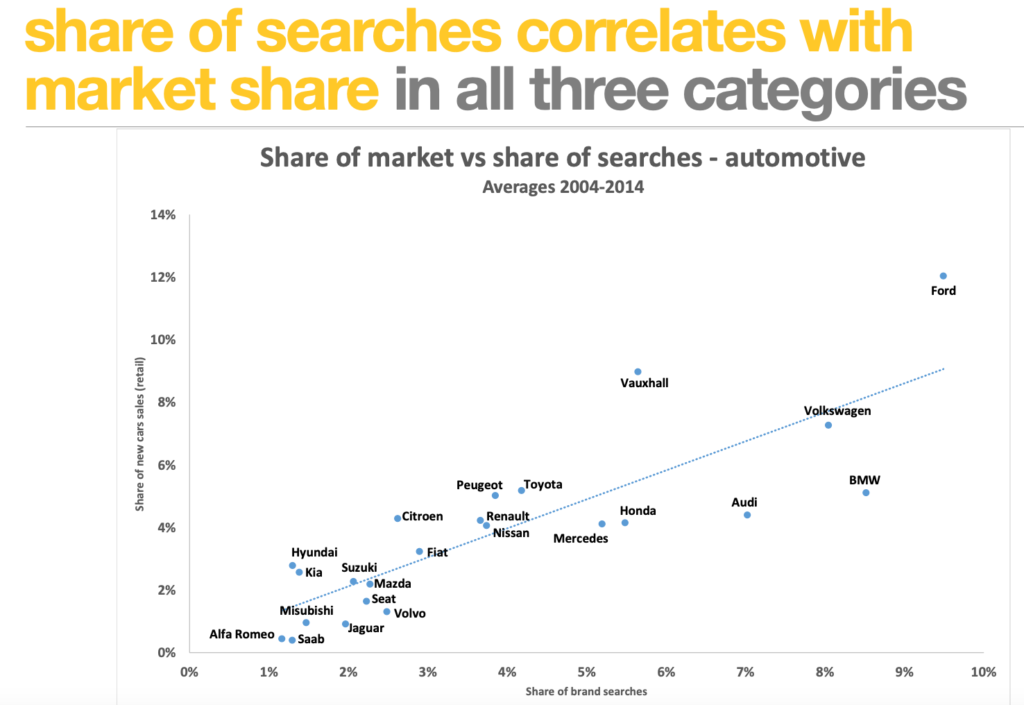 Of course you will be thinking 'correlation doesn't prove causation' and this isn't unexpected. As Les explains, where it gets really interesting is that the research identified that…
Les explains the implications of this in this video, simply put, marketing activities and investments that increase the volume of search compared to competitors, will lead to increased market share. You can also download the summary PDF.
A simple, practical take away from this work is for you to review how brand search phrases vary through time as different campaigns and products are launched and always-on search investment is varied. Google Trends provides a simple version of this.
Another technique to consider is to review different forms of brand searches which break down into pure brand searches e.g. Citroën and product specific 'navigational' searches where searchers seek to find a product, sub-brand or category directly without visiting the home page, for example, they might search for Citroën Berlingo, Citroën C4 or Citroën Cactus if aware about them. The variation in search intent for these product-specific terms can be monitored through time to assess the effectiveness of marketing activities to promote them and competitor activity.