One of the benefits of email marketing automation is that marketers can create event-triggered emails to connect with new subscribers.
A welcome email can be sent to new subscribers, who may have signed up to receive a newsletter, or to new customers who have just made their first purchase. An email sent to new customers is sometimes called onboarding and might involve a new customer registering a warranty with a brand they have purchased from.
Traditionally, in retail, it's been common to use a one-size-fits all approach of offering a deep-discount to new subscribers who haven't purchased in order to achieve the first sale. But if you use AI to score purchase intent, you can still achieve the sale with no or lesser discounts for those showing intent to buy through their web or email interactions. For example, this example of an email welcome sequence from Kiehls uses a three-stage basket abandon and defer sending a discounted basket abandon email. This is the first email that doesn't offer a discount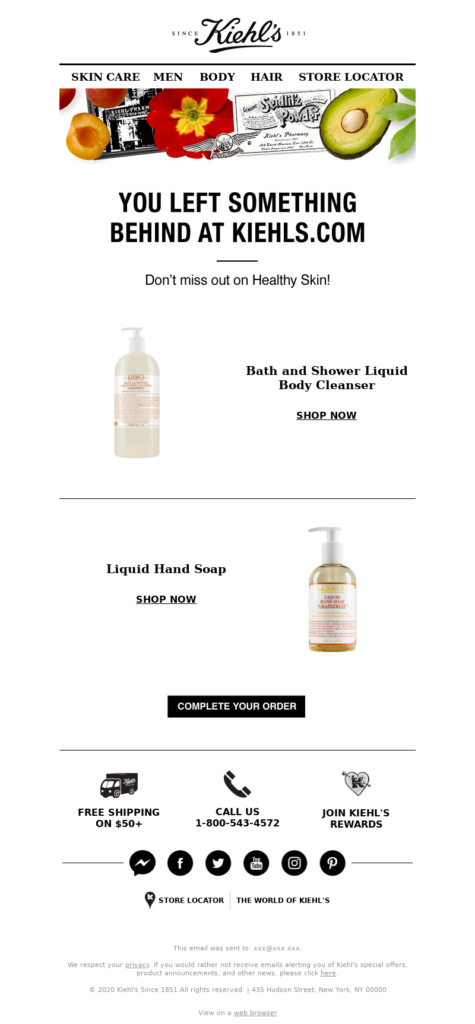 The second email is sent a day later and provides a bit more detail, including a bigger CTA to join their rewards program and other recommended products to shop. The last email in the series is sent 5 days after Email 2 and highlights most of what was highlighted in email 2 but adds a bonus offer for 2 deluxe samples with orders over $40.

Together these emails form a welcome sequence which are part of the email contact strategy that can be created as part of lifecycle marketing. The effectiveness of automated welcome sequences can be optimized through testing creative, offer and timing of sends. Engagement and response can also increased through using personalization and targeting to increase the relevance of the offer.