It's important to have clarity on your goals for digital marketing as is the case with any business or marketing strategy. Whether you're investing in digital media, digital experience, content, or marketing automation, it's important to define the return on your investment and which targets you're looking to achieve. Then you can regularly assess performance against target and take corrective action.
What is the difference between goals and objectives?
To keep on track with your strategy, it's important to be clear on the differences between goals, objectives and KPIs you can show the hierarchy and show that you need a broader marketing / digital marketing Vision too.
Vision > Goals > Objectives > KPIs > Measures
To help remember them we can show the differences as:
Long-term Vision > Broad organizational goals > Specific SMART objectives > Performance driving KPIs as shown in this framework, where the relationship defining goals, objectives and KPIs is: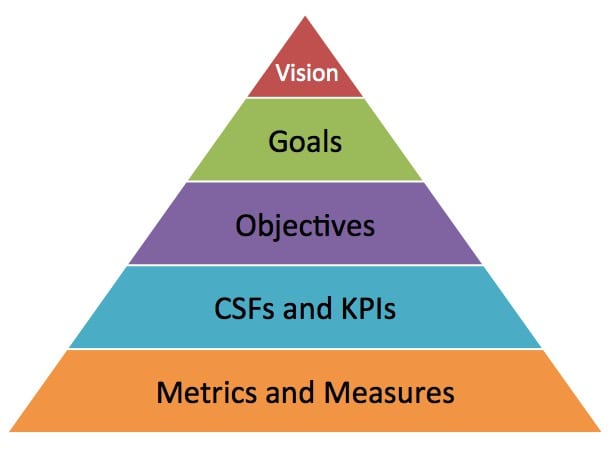 What types of goals are useful for digital marketing?
Specific types of goals to consider for digital marketing are:
Examples of setting digital marketing goals
Our Smart Insights example member planning templates have many examples of goals for different industry sectors. Plus our blog example of the 5S goals for digital marketing gives a retail example.
In this update from Think With Google on Why clarity on marketing objectives is critical, Google's Global VP of Ads Marketing Marie Gulin-Merle talks to Jason Spero, VP global performance solutions at Google, about the challenges faced by marketers today. They discuss how marketers can navigate increasing complexity with a clear focus on their marketing objectives. We start the interview at a section on aligning media objectives with marketing goals. Later sections of the interview focus more on specific Google products with some retail examples.