5 types of personas to consider creating plus examples
Personas are a great way to create more customer-centred communications which better engage audiences with communications, both on a website, and beyond.
My brief definition of a customer persona is…
"A summary of the characteristics, needs, motivations, environment and behaviour of typical distinct audience types".
To inform investments in digital media and experiences, a more detailed persona should also define customer journeys and content needs as your audience seek information about a product or service.
A more specific definition that I like, originally developed by customer experience agency Foviance/EY Seren is this:
"A persona is a fictional character that communicates the primary characteristics of a group of users, identified and selected as a key target through use of segmentation data, across the company in a usable and effective manner.

This ultimately enables the company to design the best user experience for its customers at all touchpoints, which is a key success factor in today's business environment".
This shows the application of the persona, showing that it can be used to inform both web design, content consumed and communications with the persona.
Types and examples of persona
These definitions are for marketing personas. Within these, there are others to consider if you're looking to create them:
1. Marketing personas
These are used to summarise customer segments based on their audience characteristics, behaviour, product or service preference and perception of a brand.
Here is a typical consumer brand marketing persona example summarizing demographics, life stage, brand and media preferences and influences on their preferences.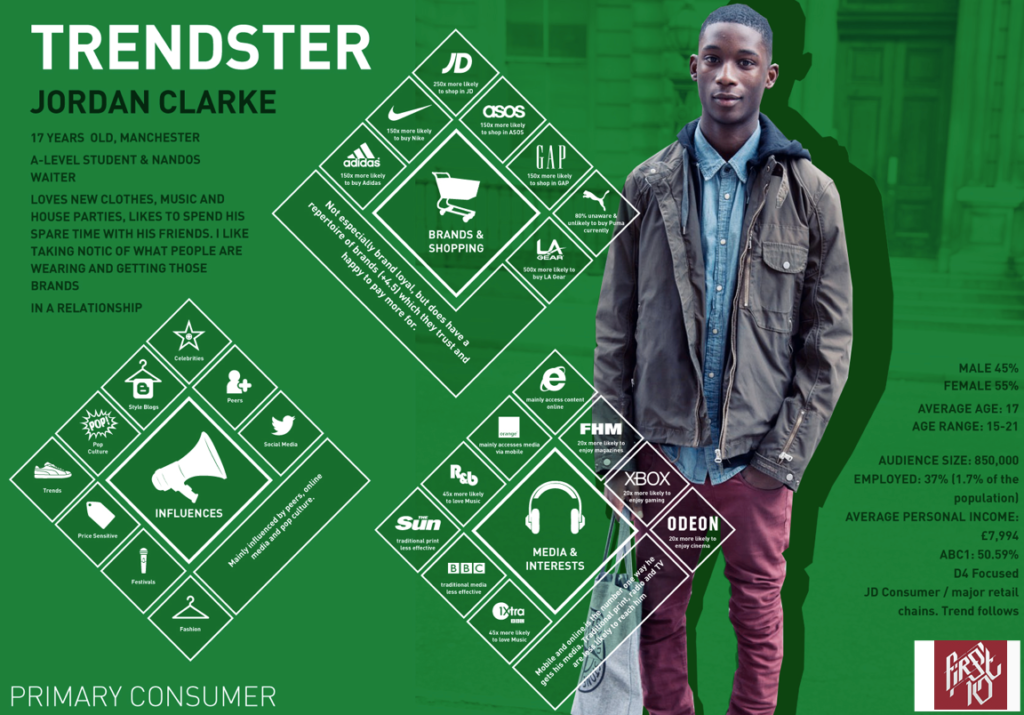 2. Buyer personas
Although most consumer personas are buyer personas, this term is usually used for business-to-business personas where there may be multiple decision makers.
These are popularized by Adele Revella of the Buyer Persona Institute who shares examples of these, which show her recommend approach for laying out the persona.
3. User personas
User personas aren't relevant for all businesses. They may be used in B2B marketing when users of a product or service are different from the specifier or buyer.
4. Web design or Customer experience personas.
Personas created specifically to improve the online user experience and improve the results from sites. Ideally, they incorporate touchpoint mapping to support purchase decision making across channels. Usually based on research.
5. Primary persona
Within web design personas it's common to define a primary marketing persona defining the 'typical' or 'ideal' customer which is the best fit for the businesses product and services.
Note that in web design, the primary persona is not always typical of the audience, it can be a persona that is more challenging to serve because of their context. For example, Ford used a primary persona who was a female car, single-month persona who had relatively little interest or knowledge of cars.
If you're looking for more examples, here we have more examples of B2B vs B2C personas.