RPA has gained a lot of attention from industry analysts discussing Artificial Intelligence as a technique that can increase the efficiency of manual back-office operations and workflow. However, its use in marketing is currently limited. Most applications are in low-level back-office customer service situations rather than in applications such as predictive analytics or customer chatbots.
'RPA is a software technology that enables a "robot" to emulate and integrate the actions of a human interacting with digital systems to execute a business process. RPA robots use user interfaces and Application Programming Interfaces (API) to capture and scrape data and use applications like humans do. They interpret, trigger responses and communicate with other systems in order to perform repetitive tasks such as scheduling and reporting'.
This provider recommends these uses of RPA in marketing and provides integrations for automating manual Salesforce tasks via its orchestrator.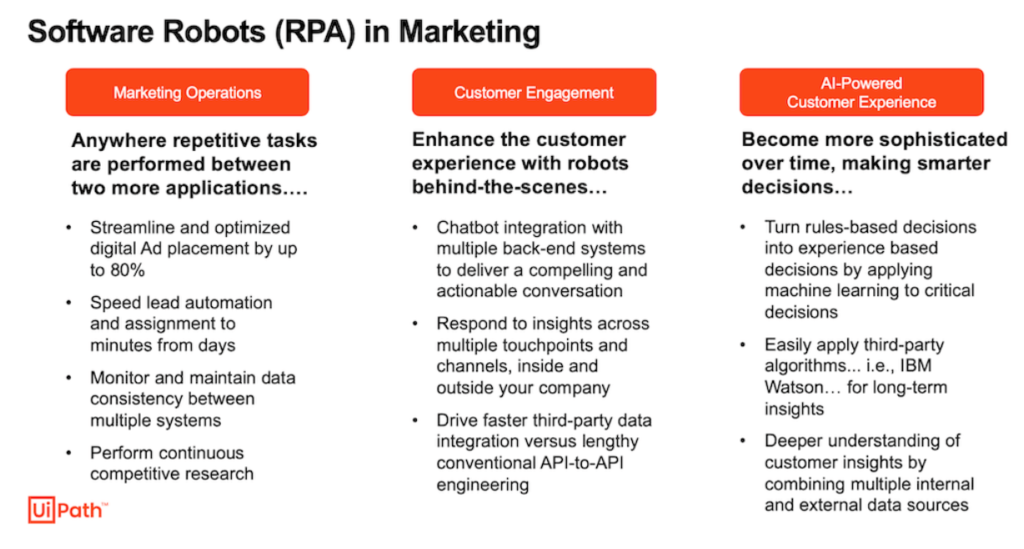 Note that these are low-level integrations and providers do not directly provide applications for automating  customer services or sales workflows, rather they automate the manual interactions involved with using these types of system.