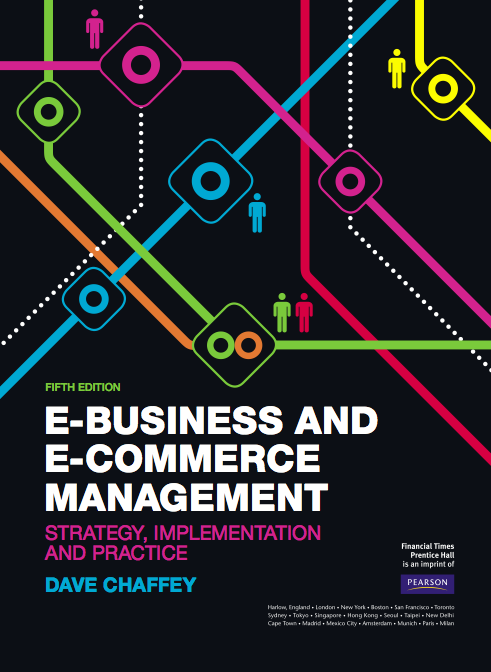 The 5th edition of my Ebusiness textbook has just been published to coincide with the start of the new term. Here are the main changes. Now working on my Internet Marketing Book. It's like "Painting the Forth Rail Bridge", but more enjoyable I guess…
Each chapter has been rationalized to focus on the key concepts and processes recom- mended to evaluate capability and develop e-business strategies. The main updates for the fifth edition on a chapter-by-chapter basis are:
Chapter 1 starts with a look at the amazing innovation in business model that the web has facilitated. The introduction to different e-commerce concepts now covers mobile, Web 2.0 and social commerce concepts in more detail including a new case study on the Facebook business model. The six main options for reaching and interacting with online audiences are introduced.

Chapter 2, renamed 'Marketplace analysis for e-commerce', is updated with the latest tools for online marketplace analysis for e-business which can be used by students working on case studies or practitioners in business and is described with new diagrams and links to information sources. A new case study about i-to-i, an organization offering adventure travel in different markets is included.

Chapter 3. The chapter has been updated to review the business applications of augmented reality, APIs, mobile apps and microformats. Coverage of software as a service and the issues in managing these services have been added to. Chapter 3 includes a case study on Google technology and innovation and mini case studies on Amazon Web Services and Twitter.

Chapter 4. The chapter has been simplified and privacy implications of behavioural targeting and remarketing are presented.

Chapter 5. Chapter simplified, still using established strategy process frameworks.

Chapter 6. New research on Operations Planning (S&OP) Systems and a mini case study
on how Argos uses e-supply chain management to improve customer convenience.

Chapter 7. New research on business benefits of e-procurement through case studies of
three companies is presented.

Chapter 8. Some new concepts incorporated include content strategy and crowd sourcing.

Chapter 9. Increased depth on social media and introduction to social CRM.

Chapter 10. A new mini case study on conversion optimization by Def Shop and a case
study of a failed e-project.

Chapter 11. A new section on using the star schema in data warehouses and business intelligence systems. Coverage of web user feedback tools.

Chapter 12. Content management and content strategy discussion updated.